DFL Services 121 Egloshayle Road Wadebridge Cornwall PL27 6AG
Husband and wife team Luke and Rosie Smith have been married for sixteen years and have three children. They live in Wadebridge having settled in this beautiful town after returning to the UK from abroad.
Luke is originally from Plymouth and Rosie from South London. They met whilst working in the Capital, Rosie in administration and Luke in HR and Recruitment. However after living and working abroad and returning to the South West they felt a need for a ch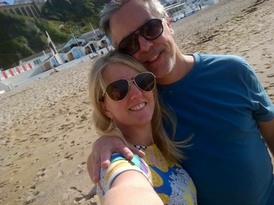 ange and established DFL Services to bring a level of maturity and professionalism to the cleaning market which was noticeably absent.
As a result of their honest approach, reliability, maturity and professionalism the business is thriving and DFL have established themselves as a leading light in cleaning domestic and commercial properties from Padstow to Rock, from Wadebridge to Port Isaac and all points in between.
Having stared out of office windows onto the uninspiring grey walls of London for so many years, we really appreciate where we work now. On a daily basis our job can take us from a tiny cottage in Trelights to a multi-million pound chrome and glass palace in Rock with views across the river Camel to Padstow. Then over to a string of holiday homes on the headland whose picturesque windows boast breathtaking views over Daymer Bay or Polzeath beach. Back to Wadebridge for some of our domestic clients and then off again to Rock to honour our commercial cleaning contracts or one of the villages in between. Never a dull moment or indeed a dull view!!
Hi I am Claire, a mum to two gorgeous children, Ava 3 and Harley 1 and a wife to Darren, We love spending time together as a famly and enjoying the great outdoors. My previous employment has always been in childcare but since having my babies I have been looking for a job to fit around them which is when I came across Rosie and Luke at DFL. They have offered me the opportunity to join the team which means having flexible hours to fit around my young family. I look forward to meeting all their lovely clients soon."